---
Your 2018 JD Crimson Bears
---
Click here to donate
---
Alumni Game - December 2017
---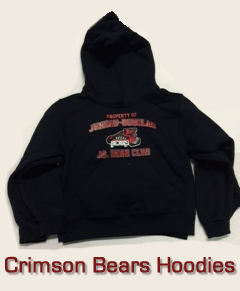 "Get your Jr. Bear's Club hoodie
during home games at JDHS!"
---
News
Thursday December 14, 2017
New v. Old - JDHS Alumni Game
The 2017-18 Crimson Bears will take on the former Bears in a test of skill... and lung capacity. Come on down to the gym Friday, Dec. 15 to catch the action. Game tip-off is scheduled for 7pm.
Wednesday December 13, 2017
CBears first games: Tarkanian Classic - Las Vegas, NV.
For the first time in 30+ years the JDHS boys team will head to the lower 48 for games. Check the schedule page for more info, or copy and paste this link into a new web browser:
http://www.tarkanianclassic.com/2017home.html
Tuesday December 12, 2017
The Capital City Classic Schedule is Here!
Click on the "Tourney" link in the task bar located above to find the current CCC 2017 game schedule.
Wednesday October 11, 2017
2017-2018 Official Crimson Bears Varsity and JV Schedules Released!
This looks to be an exciting season full of promise and multiple tournaments, beginning with the varsity traveling to the Lower 48 for the first time in nearly 30 years to play in the Tarkanian Classic (Bishop Gorman High School, Las Vegas, NV)! They will also participate in the Capital City Classic (JDHS), Alaska Prep Shootout (Dimond High School), and the Whaler (expand/collapse)
Thursday September 28, 2017
Alaska High School Basketball
The official start that ASAA has set for Alaska High School Basketball is Wednesday, November 29, 2017.
The boys are working hard in preparation for the new season. They have their eyes on a third consecutive Region V Championship and their second state championship in the last three season.
Be sure to keep an eye out for the official release of the
(expand/collapse)