---
Your 2017 JD Crimson Bears
....coming soon
---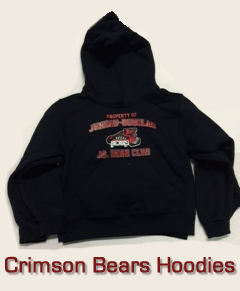 "Get your Jr. Bear's Club hoodie
during home games at JDHS!"
---
News
Friday November 18, 2016
ASAA365.com
Are you a basketball fan? If so go to ASAA365.com and you can follow all of the action in the state of Alaska! Get access to schedules, scores, results, highlights, and conference standings.
Wednesday November 16, 2016
Varsity Schedule Released!
Catch all the action of the boys varsity team this season at home and away. Go to the "Varsity Team" tab above and scroll down to click on "Varsity Schedule". Or you can copy and paste this link: http://www.slickstats.com/alaska/boys/basketball/juneau-douglas/schedule?year=2017
Sunday September 11, 2016
ASAA Announces the Start Date for Alaska High School Basketball
The JDHS Crimson Bears will be back in action with the start of the 2016-17 season on Wednesday, November 30th. Any student-athletes interested in playing in the program this year must make sure that they have a current physical on file with the school and signed participation and consent to treat forms. Check on your paperwork status with the Activities (expand/collapse)
Friday September 02, 2016
Basketball camp for athletes with special needs - Juneau Empire by Kevin Gullufsen
Greg Brittenham, former NBA assistant coach with the New York Knicks, will be in town to run his "I Did. You Can." basketball camp 9 a.m.-noon Sept. 3-5 at the Juneau-Douglas High School gym. The camp is free. For more information or to pre-register, please contact Janette Gagnon at 321-6584 Janette.gagnon@juneauschools.org. Volunteers are still needed for the (expand/collapse)
Sunday June 26, 2016
Juneau Fast Break Basketball Camp: Wrap up and Awards
The Juneau Fast Break Basketball Camp was a tremendous success delivering professional instruction to nearly 200 participants.
Camp director and Juneau-Douglas head coach, Robert Casperson, would like to congratulate nearly 200 campers on two phenomenal weeks of basketball. Camp 1 had 150+ participants entering 2nd – 8th grades. Camp 2 had 40 participants
(expand/collapse)