---
Your 2018 JD Crimson Bears
2018 4A Region V Boys Champions
---
---
Got Summer Camp?
Carlos Boozer 2018 Basketball Campe
Ages 5 to 18, August 6th - 10th, 9am-3pm
---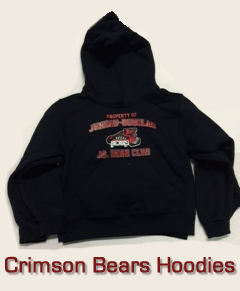 "Get your Jr. Bear's Club hoodie
during home games at JDHS!"
---
News
Tuesday October 16, 2018
Alaska High School Basketball - It's Official!
The official start date for basketball, as set by ASAA, is Wednesday, November 28th. Keep an eye on our webpage for all things Crimson Bears, including; information on our schedule, opportunities to join the Fast Break Club, and much, much more for the upcoming season! #upnext
Tuesday May 15, 2018
Awards Banquet and Appreciation - A Message from Coach Casperson
The Juneau-Douglas High School boys' basketball team recently held our end-of-the-season awards banquet. During the celebration, the coaching staff noted how important the community was to our efforts this season. In light of that, we would like to acknowledge the following groups and individuals for their continued support:
The coaching staff wants to extend
(expand/collapse)
Sunday March 11, 2018
The Third Time's the Charm. CBears are Region V Champions... AGAIN!
The boys repeated their historic feat from the 2016-17 season this weekend by becoming the first 4A school in Region V history to come back through the losers bracket as the #3 seed and win the championship, but this time they completed the achievement on the road!
After suffering a defeat to the tournament hosts K-Hi Kings in the first 4A game of the
(expand/collapse)
Thursday December 14, 2017
New v. Old - JDHS Alumni Game
The 2017-18 Crimson Bears will take on the former Bears in a test of skill... and lung capacity. Come on down to the gym Friday, Dec. 15 to catch the action. Game tip-off is scheduled for 7pm.
Wednesday December 13, 2017
CBears first games: Tarkanian Classic - Las Vegas, NV.
For the first time in 30+ years the JDHS boys team will head to the lower 48 for games. Check the schedule page for more info, or copy and paste this link into a new web browser:
http://www.tarkanianclassic.com/2017home.html