---
Your 2016 JD Crimson Bears
....coming soon
---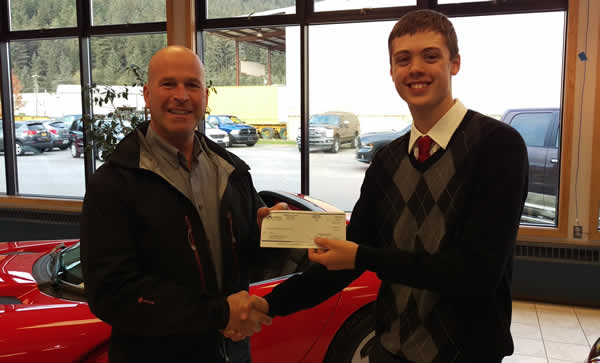 Returning senior guard, Kaleb Tompkins, accepts a $1000 donation check on behalf of the JDHS boys basketball team from Mark at Mendenhall Auto for successfully raising the most money at the Hot Dog Fundraiser held October 3, 2015
---
Click here for a pdf of the bracket in the Doc Larson Roundball Classic at Wasilla High School
---
News
Monday November 02, 2015
The 2015-2016 Schedule has been released!
Click on the "Varsity Schedule" link in the "Varsity Team" drop down menu.
We have an incredible schedule this season that includes 23 regular season games (22 + 1 ASAA Endowment). We will have 9 road games and 14 home games. The season kicks off on the road against the defending 4A state champions (West Anchorage Eagles) at the Doc Larson Roundball Classic in
(expand/collapse)
Thursday October 08, 2015
Refereeing is not easy - Juneau Empire by Klas Stolpe
Basketball officials needed for the upcoming season in the capital city
"Get the cane out of your mouth and blow the whistle."
"Put your glasses on you are missing a good game."
"The doctor called, your glasses are ready."
It is a hard job to be an official.
"We will take all the guys, or girls, we can get," Juneau-Douglas Officials
(expand/collapse)
Monday October 05, 2015
Hot Dog Fundrasier a Great Success!
Thank you, Juneau, for your generous support this weekend at the "showdown" hot dog fundraiser between the Thunder Mountain and Juneau-Douglas boys basketball teams at Mendenhall Auto. The friendly competition was great opportunity for the boys to interact with the community. By dropping in and donating to the cause you helped us raise enough money to earn the (expand/collapse)
Monday July 13, 2015
Juneau Fast Break Basketball Camp draws near 200, awards announced - KINY by Lori James
As the Juneau Fast Break Basketball Camp wrapped up last month, Camp Director and Juneau-Douglas Head Coach, Robert Casperson, called it a tremendous success, "delivering professional instruction to the youth of the region."
The coach would like to congratulate nearly 200 campers on two phenomenal weeks of basketball. Camp 1 had 130 participants in 2nd – 8th
(expand/collapse)
Wednesday June 24, 2015
Juneau Fast Break Basketball Camp Scores Again - Juneau Empire by Klas Stolpe
In 40th year, hoops camp continues to bring talent to the court
Juneau Fast Break Basketball Camp director Robert Casperson has pretty much seen it all on the court during his days as a player in the camp and now as a coach who oversees the weeklong gathering of players and instructors.
Casperson stated that two things jumped out in this year's camp: the
(expand/collapse)