---
Your 2016 JD Crimson Bears
2015-2016 ASAA 4A Basketball State Champions
Get your Crimson Bear's State Championship Gear HERE

---
Congratulations AASA Coach of The Year
Coach Casperson
---
Got Summer Camp?

Click Here to View Application
---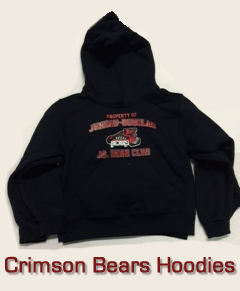 "Get your Jr. Bear's Club hoodie
during home games at JDHS!"
---
News
Monday May 02, 2016
JDHS Basketball Star Signs National Letter of Intent for University - Juneau Empire by Kevin Gullufsen
Another hoop rat to play at next level
Fresh off a state championship season, Juneau-Douglas High School basketball star Kaleb Tompkins won't have much time to reflect on his accomplishments — he's just earned a scholarship to Warner Pacific University.
Tompkins signed his letter of intent to play for the Portland, Oregon school in front of his
(expand/collapse)
Monday April 18, 2016
JDHS basketball star signs college letter - Juneau Empire by Kevin Gullufsen
Guy Bean earns scholarship to Grays Harbor College
It seems everything has been going Guy Bean's way lately. The Juneau-Douglas High School senior just finished a victorious state-championship basketball season for the Crimson Bears. Bean was also recently selected to the Alaska Association of Basketball Coaches Senior All-Star game.
He also just earned
(expand/collapse)
Monday March 28, 2016
Juneau-Douglas boys rack up more awards: 4A/3A state basketball all-tournament teams
All-tournament teams
Class 4A boys
Bentiu Panoam, Bartlett
Bryce Swofford, Juneau
Alec Canete-Hall, East
Eric Jenkins, Dimond
Daon Jones, East
Isaac Johnson, Ketchikan
Josh Fosi, Dimond
Kaleb Tompkins, Juneau
Michael Kluting, Palmer
Erik Kelly, Juneau
Class 4A girls
Alissa Pili,
(expand/collapse)
Sunday March 27, 2016
JDHS boys claim 4A crown - Juneau Empire by Kevin Gullufsen
They say defense wins championships.
The old adage proved true for the Juneau-Douglas High School boys basketball team Saturday night in the ASAA March Madness Alaska 4A state championship game as the Crimson Bears staved off Dimond High School for their first championship since 1998.
Juneau-Douglas downed Dimond 38-31 by blanketing their opponents with
(expand/collapse)
Sunday March 27, 2016
4A boys: Juneau wins first state basketball title since Carlos Boozer days - Alaska Dispatch News by Stephan Wiebe
For the first time since Carlos Boozer roamed the court 18 years ago, the Juneau Crimson Bears are Class 4A boys basketball state champions.
After spending most of the tournament coming from behind, Juneau jumped out to an early lead and fought off a Dimond rally in the second half to defeat the Lynx 38-31 Saturday at the Alaska Airlines Center. Before Saturday,
(expand/collapse)