---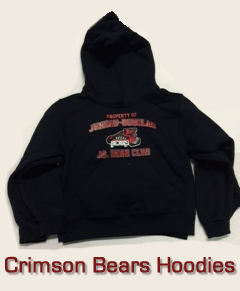 "Get your Jr. Bear's Club hoodie
during home games at JDHS!"
---
News
Thursday February 11, 2016
JDHS vs. Sitka - Juneau Empire by Kevin Gullufsen
At home, the Juneau-Douglas boys basketball team faces 3A competition this weekend with two games against Sitka at 6:15 p.m. on Thursday and 7 p.m. on Friday night.
The two Southeast-based teams have played this year, with JDHS taking Sitka down 81-63. In the two teams' Capital City Classic game, Sitka's 6-foot-7 big man Jesse Lentaigne created problems for the
(expand/collapse)
Monday February 08, 2016
Change in Home Game Times for Sitka Series February 11th and 12th.
Thursday's game against the visiting 3A varsity boys team from Sitka will tip off at 6:15pm. It will be preceded by a JV game at 4:30.
On Friday the JV and Varsity games will begin at 5:00pm and 7:00pm respectively.
Thursday February 04, 2016
JD Boys Move Up in the Rankings - Juneau Empire by Kevin Gullufsen
JDHS boys basketball is off this weekend, with its next competitions being a pair of home games against Sitka on Feb. 11 and 12. It hasn't been a slow week for the Crimson Bears, however, as a shakeup in the state coaches poll has JDHS moving up again, leapfrogging to the No. 4 spot. The Alaska Association of Basketball Coaches state 4A boys basketball rankings (expand/collapse)
Thursday February 04, 2016
ASAA's WPI First Rankings Released
The Crimson Bears are in second place in ASAA's WPI rankings, which measures strength of schedule and is used for seeding at the state tournament. The Juneau-Douglas boys team trails first place Dimond High School by .01% for first place and lead third place Ketchikan by 1.1%.
See the full WPI rankings
(expand/collapse)
Sunday January 31, 2016
JDHS boys, Kayhi split series - Juneau Empire
Ketchikan High School's Jason James scored a game-high 34 points Saturday night to lift the Kings over visiting conference rival Juneau-Douglas High School, splitting the weekend road series at 1-1.
The Kings maintained their lead the entire game by dominating offensively in the second and fourth quarters.
Guy Bean led the Crimson Bears in scoring with 21
(expand/collapse)