---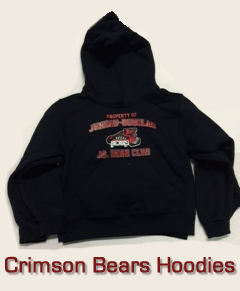 "Get your Jr. Bear's Club hoodie
during home games at JDHS!"
---
News
Sunday February 05, 2017
Unlikely hero hits last-second shot in Juneau's homecoming heartbreaker - Juneau Empire by Kevin Gullufsen
Down 47-48 with 10 seconds left, Thunder Mountain High School basketball held possession at half court. It was homecoming for the defending state champion Crimson Bears; each student section packed with blue and white on one side, red and black on the other.
TMHS coach John Blasco called a timeout and drew up a play. To nobody's surprise, the Falcons wanted to
(expand/collapse)
Tuesday January 31, 2017
JDHS boys end rough basketball weekend with another loss in Ketchikan - Juneau Empire by Larry Johansen
Saturday's rematch between the Juneau Douglas Crimson Bears and the Ketchikan High School Kings saw a repeat of the results.
Just as on Friday, Juneau built a double-digit lead in the second quarter, only to see it evaporate en route to a loss.
On Saturday, Kayhi scored 27 points in the fourth quarter to defeat the Bears 78-68. Juneau led at halftime,
(expand/collapse)
Saturday January 28, 2017
Kayhi blows past JDHS with fourth quarter comeback - Juneau Empire by Larry Johansen
On a stormy Friday night in Ketchikan, the Kayhi Kings defeated the Juneau-Douglas High School Crimson Bears 61-56 in Region V boys basketball action.
JDHS Coach Robert Casperson saw the forecast for the game Friday, but his team was powerless to push through the constant pressure from a persistent Kayhi defense.
"They are young, hungry, and athletic. We
(expand/collapse)
Tuesday January 24, 2017
JDHS boys lose two, win one - Juneau Empire by Kevin Gullufsen
The Crimson Bears boys didn't fare quite as well as they did the previous weekend on the road during this trip at the Showdown, losing two games and winning one on the weekend, but JDHS was just five points from taking all three matches.
JDHS opened with a loss on Thursday, dropping their first game to Soldotna 48-45. The Crimson Bears then turned around on
(expand/collapse)
Sunday January 15, 2017
Last-second win over Lathrop caps JDHS boys road trip - Juneau Empire by Kevin Gullufsen
The Juneau-Douglas High School boys completed a three-game road trip with a 61-59 win over Lathrop Saturday, closing the Malemutes out in a free throw shooting contest to go undefeated on the weekend.
JDHS trailed Lathrop until the last two minutes of the game, when a big shot by Sebastian Bradley tied the game 55-55 with a minute and a half to go.
Junior
(expand/collapse)