---
Your 2017 JD Crimson Bears
....coming soon
---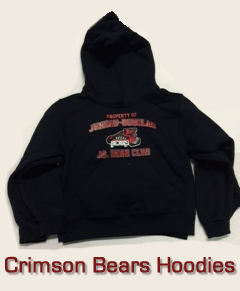 "Get your Jr. Bear's Club hoodie
during home games at JDHS!"
---
News
Sunday September 11, 2016
ASAA Announces the Start Date for Alaska High School Basketball
The JDHS Crimson Bears will be back in action with the start of the 2016-17 season on Wednesday, November 30th. Any student-athletes interested in playing in the program this year must make sure that they have a current physical on file with the school and signed participation and consent to treat forms. Check on your paperwork status with the Activities (expand/collapse)
Friday September 02, 2016
Basketball camp for athletes with special needs - Juneau Empire by Kevin Gullufsen
Greg Brittenham, former NBA assistant coach with the New York Knicks, will be in town to run his "I Did. You Can." basketball camp 9 a.m.-noon Sept. 3-5 at the Juneau-Douglas High School gym. The camp is free. For more information or to pre-register, please contact Janette Gagnon at 321-6584 Janette.gagnon@juneauschools.org. Volunteers are still needed for the (expand/collapse)
Sunday June 26, 2016
Juneau Fast Break Basketball Camp: Wrap up and Awards
The Juneau Fast Break Basketball Camp was a tremendous success delivering professional instruction to nearly 200 participants.
Camp director and Juneau-Douglas head coach, Robert Casperson, would like to congratulate nearly 200 campers on two phenomenal weeks of basketball. Camp 1 had 150+ participants entering 2nd – 8th grades. Camp 2 had 40 participants
(expand/collapse)
Thursday May 12, 2016
Holdat, is that Carlos Boozer? NBA star talks about what's next - Juneau Empire by Kevin Gullufsen
Making his first appearance in Juneau in three years, Carlos Boozer attended Juneau-Douglas High School boys basketball team's season-ending banquet on Tuesday. As fans lined up for photos with the former JDHS basketball star and NBA all-star, the Empire caught up with Boozer at the banquet to talk about his career and life plans. (Don't know what holdat means? Visit (expand/collapse)
Wednesday May 11, 2016
Boozer comes back - Juneau Empire by Kevin Gullufsen
State champions honored by Carlos Boozer, Gov. Walker
The state champion Crimson Bears boys basketball team held a banquet on Tuesday night at the Elizabeth Peratrovich Hall, bookending a Juneau-Douglas High School season in which they won their first state championship in 18 years.
Gov. Bill Walker, former NBA all-star and JDHS alumnus Carlos Boozer and
(expand/collapse)